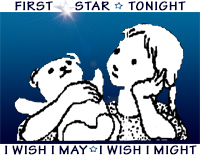 First Star Tonight
Serving the the chronically and terminally ill children and young adults of the Pemi-Baker Valley.
If you know of a child or young adult
who could benefit from our support,
please contact us.
The mission of First Star is simple ...
to bring light into the lives of the neediest of our children and young adults.
First Star Tonight was organized in 1986 by a group of business and professional people who recognized the need for a local focus in providing support for terminally ill children and young adults.
Since its' inception, First Star Tonight has received widespread and generous support from the community it serves... the real "owners" of First Star Tonight.
The board's constant and primary concern is supporting the most needy of our young, while maintaining the privacy and dignity of all to whom we provide assistance.
First Star Tonight has provided support to numerous local children, young adults, and their families. This support has taken many forms, including:
Purchases of rehabilitative services.
Trips to Disney World and other far away places.
Cash grants.
Home and vehicle access modifications.
Computers/Software.
Video Equipment.
Prescriptive medications.
Special summer camp experiences,
And much, much more.
Our goal to distribute assistance is only made possible through the generosity of others. In our community and elsewhere, many have donated services and goods, as well as support fundraising efforts by way of cash donations.
Download Brochure and Contribution Form